Forward Fashion's three art brands present large-scale arts and cultural projects for Art Macao 2023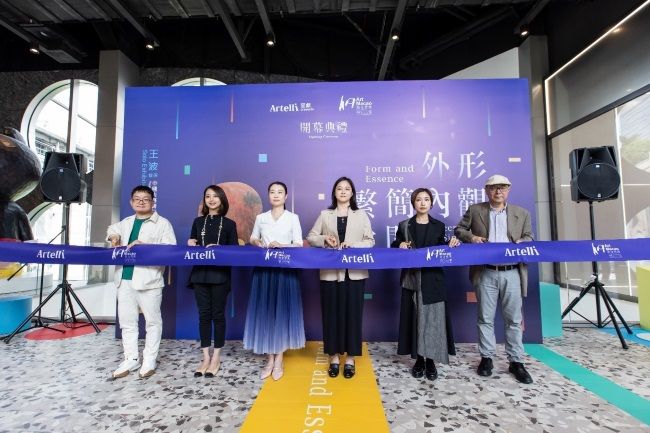 Curating high-quality art content in collaboration with enterprises and government to contribute to tourism industry development through major arts and cultural events
HONG KONG, Aug 19, 2023 – (ACN Newswire) – Forward Fashion (International) Holdings Company Limited ("Forward Fashion", 02528.HK), a creative integrated group with three synergistic business segments – fashion, art and lifestyle – presents four arts and cultural projects in collaboration with major integrated resort operators in Macau, and the Group's multi-dimensional art space, Artelli, for the international art event "Art Macao 2023". Leveraging their extensive artistic resources and curatorial experience, the presenters aim to provide a more diversified and rich arts and cultural experience for the market, and to establish new arts and cultural landmarks exclusive to the city. This year's Art Macao began on 28 July 2023 and will run until October 2023. During this period, the Group will collaborate with more than 14 international and local art units to create original art content for Macau. The lineup includes four renowned contemporary artists: Wang Bo, one of the top 100 young contemporary artists in China; Mr Doodle, an internationally renowned art master; Jason Naylor, a graffiti artist from New York; and Philip Colbert, a contemporary pop art master. They are visiting Macau for the first time, where they meet and engage local artists and the public. Visitors have the opportunity to learn more about the process, stories, and meanings behind the creations from the artists' perspectives, further fostering the development and popularisation of Macau's arts and culture.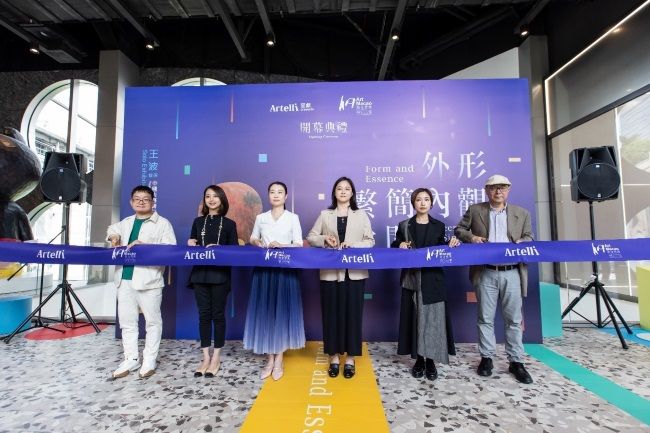 Chinese avant-garde artist Wang Bo (L) kicks off the exhibition at Artelli, with representatives from the Liaison Office of the Central People's Government in the Macao SAR, the Macao SAR government, and senior executives from Melco Resorts & Entertainment and Forward Fashion Holdings.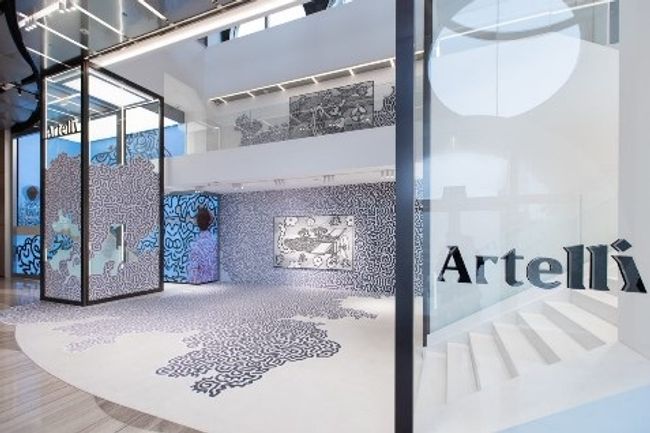 Inside the Artelli multi-dimensional art space, the world premiere of Mr Doodle's first collaboration with Disney, "Disney Art Collection by Mr Doodle", an exhibition showcasing 24 original artworks paying tribute to classic Disney scenes, with a new creative twist.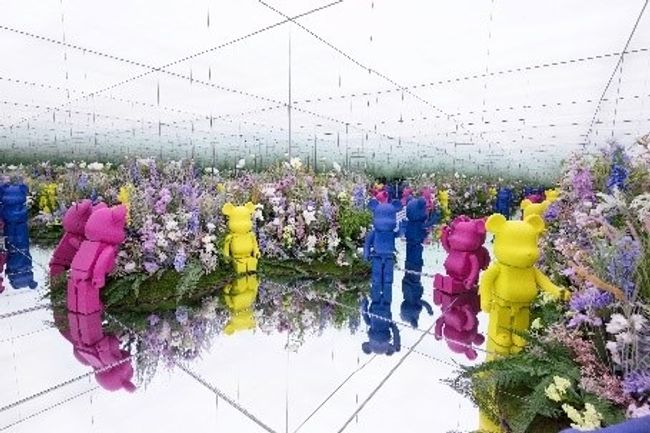 "BE@RBRICK Garden", the world's first immersive BE@RBRICK Art Exhibition, is taking place at the Galaxy Macau(TM), establishing a new art landmark in the city.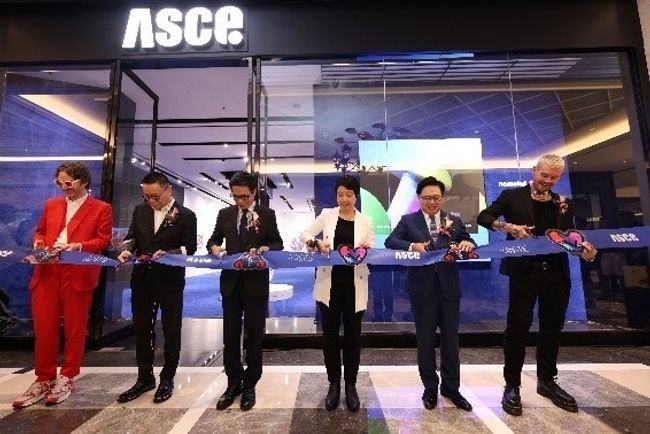 Internationally renowned artists Philip Colbert (L) and Jason Naylor (R) joined in celebrating the opening of the ASCE arts hub in Macao with representatives from the Macao SAR government, and executives from Sands China Ltd. and Forward Fashion Holdings.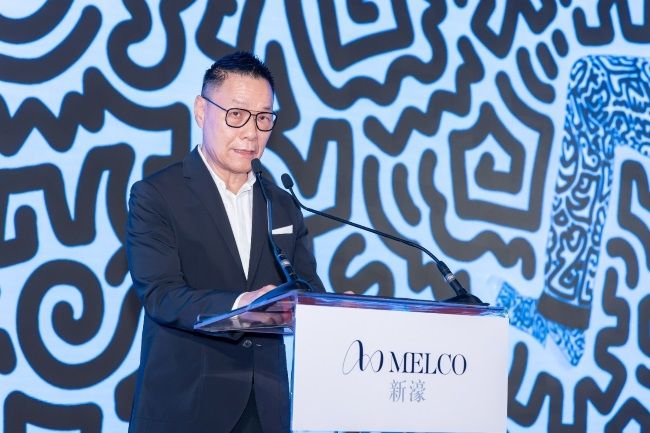 Mr. Patrick Fan, Founder and Chairman of the Board, Forward Fashion Holdings at Artelli: FFH will continue to introduce innovative, dynamic & diverse international visual arts projects, which will further enhance the artistic and cultural atmosphere in Macau.
Artelli Collateral Exhibition – "Form and Essence, Between Complexity and Simplicity", a Solo Exhibition by Wang Bo, Young Chinese Avant-Garde Artist
"Form and Essence, Between Complexity and Simplicity" is the solo exhibition of the young Chinese avant-garde artist Wang Bo, and marks Artelli's inaugural exhibition featuring young Chinese artists. It is also Artelli's first participation in Art Macao, showcased in the form of a collateral exhibition. Beijing artist Wang Bo is among the 100 young Chinese artists selected by the Ministry of Culture for cultural industry key initiatives. At the event, he has chosen to exhibit his "A Book" series, which is inspired by the poems of his favourite Macau poet Yao Feng, thereby connecting his work to the city. Through the bold and vivid use of colors, he analyzes and appropriates everyday aesthetics, reconstructs Chinese landscapes, and translates classic Western patterns into his works. By combining historical iconography and spatial treatment, he presents a visual language with a new sensibility. On 4 August, Wang Bo participated in the opening ceremony and art talk in Macau.
First Macau exhibition by internationally renowned artist Mr Doodle
Artelli, in its capacity as a co-organizer and curator, has presented the "Mr Doodle – First Exhibition in Macao", with Melco Crown Entertainment. Mr Doodle's meticulously created artworks can be seen throughout City of Dreams and Artelli, including "Doodle Showroom" in the iconic public art building on the Cotai Strip, reinventing the aesthetic of The Showroom with its sleek lines and unique patterns; "Doodle Hall" is a breathtaking immersive exhibition at the main entrance of City of Dreams, while "Doodle Love Wall" is a large-scale public interactive art installation that will be launched on China's Valentine's Day; and "Doodle Cube" is a multimedia art installation at the Morpheus Hotel that blends a distinctive style of graffiti with free-flowing architectural design.
At Artelli, visitors can witness the world debut of Mr Doodle's large-scale original exhibition, "Disney Art Collection by Mr Doodle", a highlight of his exhibition in Macau. On 12 September, Mr Doodle will make his first visit to Macau to showcase his creations, and visitors can look forward to a vibrant exhibition of contemporary art.
BE@RBRICK MACAU – World's First Immersive BE@RBRICK Art Exhibition
Organized by Galaxy Entertainment Group, co-organized by Forward Fashion and curated by BE@RBRICK MACAU, the World's First Immersive BE@RBRICK Art Exhibition has taken place at Galaxy Macau, establishing a new art landmark in the city. This event is the largest BE@RBRICK art exhibition ever held in Macau, combining technology and digital art to present a cultural fusion of trends and art, offering an innovative and diversified art exhibition for both tourists and residents.
The art exhibition is divided into several zones, starting with the limited edition BE@RBRICK MACAU 2023 and a series of two-meter-tall BE@RBRICK 3000% art installations unveiled at the Pearl Lobby, which incorporate AR elements to create an immersive interactive experience and bridge the gap between art and audience. The exhibition also boasts the world's-first and tallest MY FIRST BE@RBRICK B@BY 10000% giant outdoor art installation, towering over seven meters, on display at the Outdoor Lawn near Diamond Lobby, which is set to become a must-see attraction in Macau. Over 50 exhibits from previous BE@RBRICK MACAU exhibitions will be showcased, along with immersive experience spaces such as "BE@RBRICK Garden" and "BE@RBRICK Infinity". Additionally, the world debut of BE@RBRICK digital art will be presented at GalaxyArt. Another highlight is the special edition BE@RBRICK, created by Macau artist MCZ Thomas, also released to promote cooperation between "International IP x Macau element x Macau artist", bringing local artists to the international stage. The opening ceremony was also extended to the "Power of Art – Contemporary Art & Fashion: A Driving Force of the Cultural Industry Development" art forum and exchanged in-depth thoughts among industry professionals.
Diversified and explorative art hub ASCE launches "Meet the Magic", its first exhibition opening to light up Macau's summer art scene; Internationally renowned artists Jason Naylor and Philip Colbert visit Macau for the first time
Organized by Sands China, co-organized by Forward Fashion, and curated by ASCE, "Meet the Magic: In Celebration of Disney 100, by Philip Colbert & Jason Naylor" exhibition invited two internationally renowned contemporary artists, New York graffiti artist Jason Naylor and contemporary pop art master Philip Colbert, to present a series of original artworks and giant installations. The exhibition showcased two five-meter-tall Mickey Mouse-inspired large-scale art installations in Le Jardin at Parisian Macao and the lagoon area of The Venetian Macao. This marks the first time that Philip Colbert and Jason Naylor have displayed their original works, including classic and world premieres, in Macau. Their vibrant art injects infinite colour into the summer and provides a richer cultural experience for both local residents and tourists. At the opening of the exhibition, Philip Colbert and Jason Naylor met young local artists, media and collectors and shared their creative experiences with them in Macau. The artists attracted a large number of fans and kicked off the summer of art together.
Mr. Patrick Fan, Founder and Chairman of the Board of Directors at Forward Fashion, said, "Forward Fashion and our art brands are honoured to participate in the international art event 'Art Macao', and to collaborate with a number of large-scale integrated resort operators as organizer, co-organizer and curator to create interesting and high-quality art content, bringing surprises to the market and art enthusiasts, and jointly creating new cultural and artistic landmarks for the city, so as to position Macau as a more attractive travel destination. As an art content provider, Artelli, a multi-dimensional art space of Forward Fashion, has rapidly established footholds in four major cities, namely Macau, Hong Kong, Taipei, and Shanghai, in six months, and organised more than five high-profile international art exhibitions. Looking ahead, Forward Fashion will continue to introduce more innovative, dynamic, and diverse international visual arts projects, which will further enhance the artistic and cultural atmosphere in Macau. Additionally, the Group aims to provide more exhibition platforms for local and international artists to exchange ideas and showcase their work."
Forward Fashion will constantly explore its unique business model, which combines culture, art and commerce, in an effort to establish a future sustainable art and culture business ecosystem where art, commerce, and tourism can work together. Through its original art brands Artelli and ASCE, Forward Fashion will collaborate with high-end brands, well-known IPs and artists, to introduce more exclusive and first-of-their-kind collaborative projects. This will include creating original art content and collectibles, as well as expanding the international market. The Group will also continue to innovate and explore the possibilities of Web3 digital art, bringing more refreshing art experiences to the market.
About "Art Macao 2023"
"Art Macao: Macao International Art Biennale", or "Art Macao", is an international art event organised by the Macao Special Administrative Region Government integrating resources from various sectors in the S.A.R., aimed at congregating global creative forces to produce a city-wide signature biennale event. Renowned curator Qiu Zhijie is the chief curator of "Art Macao: Macao International Art Biennale 2023", which has adopted the theme "The Statistics of Fortune" to reflect on the expectations and concerns caused by the development of science and technology and explore the clashes and interactions between science and religion. From summer to autumn, through eight sections; the Main Exhibition, Public Art Exhibition, City Pavilion, Special Exhibition, Invitational Exhibition by Local Artists, Local Curatorial Project, Art Exhibition of Higher Education Institutions and Collateral Exhibition, nearly 30 art exhibitions will be presented across the city, in a showcase of modern and contemporary masterpieces that are zestful and representative, by over 200 artists from more than 20 countries and regions, allowing visitors to experience the breadth and depth of art while at the same time embarking on a grand aesthetic journey. The objective is to raise to a new level the cultural and artistic atmosphere of Macao as a famous World Heritage city. Website: https://www.artmacao.mo/2023/en
About Forward Fashion Holdings
Forward Fashion (International) Holdings Company Limited is an integrated group with three synergistic business segments – fashion, art and lifestyle – and a commitment to creating an innovative retail business model. With a track record of managing over 100 brands, the Group has helped many brands to establish their first presence in Greater China. In recent years, the Group has actively enhanced its operations and developed its own brands, such as Artelli, ASCE, UMJ, WF Fashion, to further enrich its brand portfolio. Leveraging its extensive retail experience and IP resources, the Group has spearheaded exclusive collaborations with brands and cultural and art communities to expand into the international market.
Mr. Fan Wing Ting, Patrick, is the founder, chairman and executive director of Forward Fashion Holdings. In 2005, he founded the first company of the Group in Hong Kong focusing on fashion apparel retail in Greater China. Following the Group's 2020 listing (on the Main Board of The Stock Exchange of Hong Kong Limited, Forward Fashion has embarked on eCommerce platforms and introduced international fashion and artistic brands and visionary international art projects to Greater China. The Group aims to cater to the preferences and needs of local youths and promotes business diversification. Website: https://www.forward-fashion.com
About Artelli
Artelli is the pioneering multi-dimensional space for contemporary art, lifestyle aesthetics, digital and techno art, art communities, and brand collaborations. The space stands as a new and unprecedented international landmark for art and culture.
Artelli will ultimately join forces with over a hundred internationally renowned artists and brand designers to co-create exclusive art projects and debut collections. With a dedicated focus on Web 3.0 digital art and metaverse, Artelli pioneers the exploration of new artistic dimensions. Guided by a strong commitment to become a multi-dimensional art space that fosters collaborations within the art and culture communities, Artelli's visionary path unfolds through the fusion of art, technology, and the dynamic commercial sector.
Artelli has successfully organized more than five highly anticipated art exhibitions, featuring international artists in prime locations spanning Macau, Hong Kong, Taipei, and Shanghai. In the future, Artelli envisions expanding its brand to attain international prominence as the landmark for art and culture. With aspirations reaching Tokyo, Seoul, Singapore, New York, London, and Paris, Artelli is set to leave a vivid mark on the global stage over the next five years. Website: https://www.artelli-meta.com.
About ASCE
A playful creativity hub for visionary breakthroughs of internationally acclaimed characters. ASCE serves as a diverse and explorative art hub where collectors gather for social exchange and discover the fabric of everyday life.
ASCE embraces the ethos of playfulness, everyday lifestyle, and personalization, uncovering collaborations with internationally renowned artists and brand designers to create seasonal character projects. ASCE blends fashion, art, design, and technology to build a diverse hub for lifestyle art experiences and boundary-breaking creative exchanges. Strengthening bonds with creative communities, ASCE will be hosting a range of exceptional events, establishing an exploration hub for art, culture, and lifestyle enthusiasts to connect and exchange ideas.
ASCE aims to achieve new milestones in art + commerce in the Greater Bay Area and targets to expand its footprint worldwide in mainland China, and to Tokyo, Seoul, New York, London and Paris.
Media Enquiry:
Strategic Financial Relations Limited
Mandy Go, Tel: +852 2864 4812
Shelly Cheng, Tel: +852 2864 4857
Iris Au Yeung, Tel: +852 2114 4913
[email protected]
Source: Forward Fashion (International) Holdings Company Limited
Copyright 2023 ACN Newswire . All rights reserved.
Related Posts