How to Transition from Summer to Fall Fashion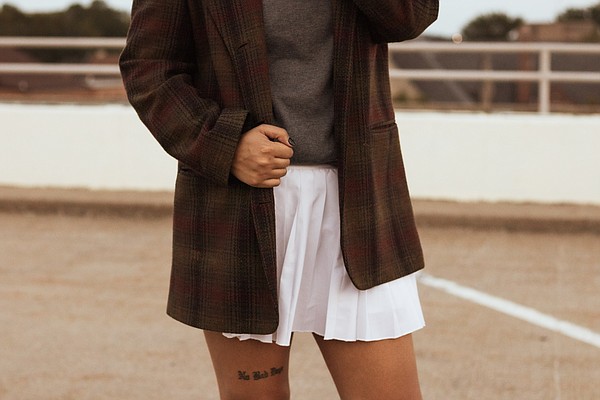 As the sun-kissed days of summer fade away, it's time to bid farewell to the beloved summer uniform of cutoff denim shorts, bikini tops and breezy linen sets. Soon, they'll find their way into storage as we embrace the arrival of the upcoming season and, of course, fall fashion. 
Fall is undoubtedly my favorite season, and fall fashion plays a significant role in that adoration. There's something about adding an extra layer for a dimensional look or wrapping up in a plaid scarf that acts as a toast to the season. Or the allure of stylish leather boots and structured jackets that complete any ensemble. 
The arrival of fall is upon us, and HER is here to help you transition from summer to fall fashion as well as provide up-and-coming trends to don this season.
Tip #1: The Art of Layering
Fall fashion is all about abiding by the rules of the weather. With fluctuating temperatures, mastering the art of layering is imperative for wardrobe functionality. Hold on to your tank tops, short-sleeved tees and dresses, and utilize them as the base of your fall ensemble. Pair these basics with warm knits or a lightweight jacket for the perfect seasonal balance. For a more elevated feel, experiment with different silhouettes and materials. Try combining a luxurious satin midi skirt with a soft, knit sweater or laying a maxi dress with a buttoned cardigan and a long, belted coat.
Tip #2: Swap the Shoe
Ditch your flip-flops and sandals for the fall closet staple: boots. From chic classics like knee-high riding boots and ankle boots to the more practical, yet stylish UGG boots, they are the go-to footwear to complete any look. Materials like leather and suede complement any outfit, especially in classic shades of black and brown. Ankle boots are versatile and can complement a wide range of outfits with jeans, dresses, skirts and trousers. For a more elevated look, consider a taller boot when wearing a shorter skirt or dress to add an element of sophistication and warmth. 
Tip #3: Compliment Autumnal Colors with Neutrals
Take a peek through your closet and utilize your existing neutral pieces by adding a vibrant pop of color. The warm and earthy tones of olive, maroon, burgundy and mustard are the typical color palette of the season. Enhance your wardrobe with the season's colors from accessories, tops and bottoms. Pairing a maroon sweater vest over a cream top and denim jeans creates the perfect compliment in tones. 
Trends of the Season
Leg Warmers
Forget the tacky, brightly colored '80s trend, leg warmers are making a stylish comeback this season. Opt for neutral shades to layer over tights and boots or sneakers. This trendy accessory not only provides warmth when you want to wear dresses or skirts, but also gives a cozy look to any outfit. 
Ballet Flats
While boots typically dominate fall footwear, consider adding ballet flats to your shoe rotation. Incorporate the rising trend of "ballet core" with these timeless shoes that provide a seamless transition from summer to fall wear. Style them with a longer pant and a casual blazer for a minimal, yet chic look. 
Messenger Bags
With the addition of layers and accessories in your fall wardrobe, a larger bag like the messenger bag is ideal for carrying all your necessities. Functional and stylish, this bag's design offers ample storage room and hands-free convenience. Add a messenger bag to any outfit for the perfect blend of trendiness and practicality.
Related Posts