Lewiston Art Festival: It's all about the artists this weekend | Night and Day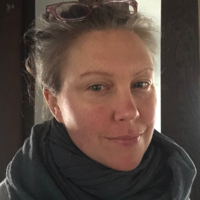 The Lewiston Art Festival officially gets underway today.
Running mainly along Center Street in the village, the free event runs 10 a.m. to 6 p.m. today and 10 a.m. to 5 p.m. Sunday.
The festival features:
• More than 20,000 original artworks in painting, graphic arts, mixed media, photography, ceramics, jewelry, fiber/metal/wood
• Indigenous Market: a celebration of traditional and contemporary Native American art and crafts
• "College Alley" features student work
• Live entertainment
• ArtZone: Hands-on activities for kids of all ages!
• Chalkwalk: Friendly team competition for ages 6 to 60+
This year's featured artist is Jessica Gadra. Her piece, "The Firebird," is the official image of this year's Art Festival.
"I've drawn since I could hold a pencil, but being an artist has always been my 'and'; I've always been a (fill-in-the-blank) and an artist. I still struggle with it. It's hard to assert yourself unequivocally, but I think that those doubts are good to have — they keep you trying." Jessica's work is featured in children's books, theater posters, the fashion industry, art galleries, and in commissioned pieces. The self-taught artist, who works in pen and ink, watercolor, and pencil, tells us that she "plucks" the inspiration for her art in "the brew of the old stories and the eternal legends that speak to us all."
The myth of the firebird travels across time and cultures. The many versions of the story were born of oral traditions, with the magical, glowing bird at the center of tales of courage and a challenging quest, foretelling glory or heralding doom. In Jessica's silhouette, we see the young protagonist sitting on a blanket of forest animals; "the child is rooted (no pun intended!) in the forest and is attuned to the whisperings of all its creatures". The mystical bird comes to rest in the tree as the child is sleeping; we see the moment the child fully awakens and is filled with the fire of inspiration.
Gadra took first price in the "Graphic Arts and Drawing" category in the 2022 Art Festival. She lives in Buffalo with her husband, author Alex Livingston (whose Knave of Secrets was published earlier this year). The two met while both were studying English at Canisius College and have been together ever since. To see more of Jessica's work, please http://jessicagadra.com/
Related Posts