Paris Fashion Week Day 5 Recap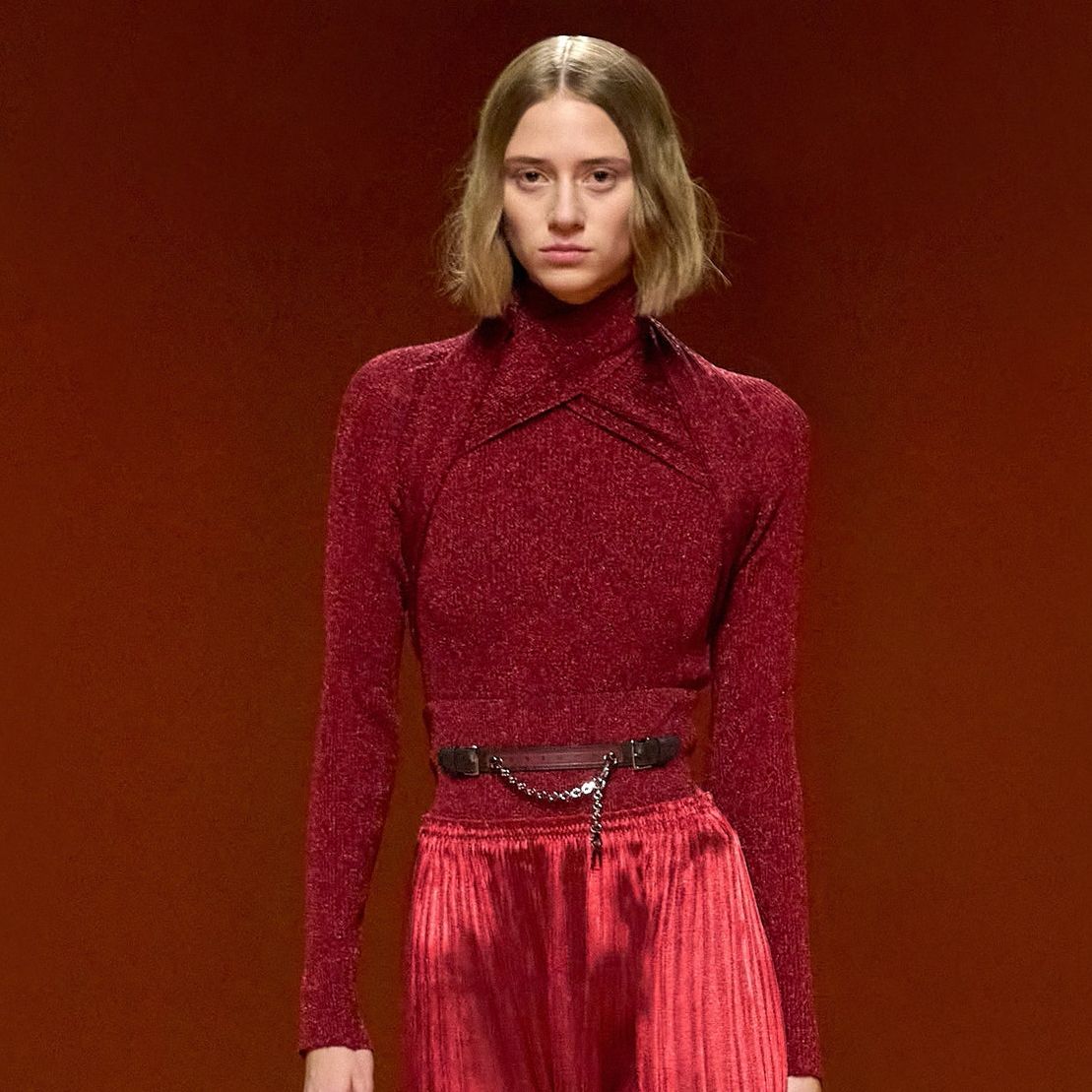 vivienne–westwood-while-ludovic-de-saint-sernin-s-paid-respect-to-the-archives-in-his-debut-at-ann-demeulemeester-keep-reading-to-discover-more-and-make-sure-to-check-out-our-picks-for-day-4-here">Day 5 of Paris fashion week saw grief and glamour at Vivienne Westwood, while Ludovic de Saint Sernin paid respect to the archives in his debut at Ann Demeulemeester. Keep reading to discover more and make sure to check out our picks for day 4 here.
Hermès
On day 5 of Paris Fashion Week, Nadège Vanhée-Cybulski presented her polished and sophisticated vision for Hermès. In a glorious autumnal colour palette the collection featured full looks in golden yellows, fiery reds, luminous oranges and earthy browns with smart outerwear in a combed cashmere and mohair blend. All elegantly styled with skin tight thigh-high boots in every hue worn under culottes, pencil or plissé midi skirts, evoking refined Parisian chic. Finale looks in eye-catching shiny metallic jacquard dresses with draped sleeves were made to mimic the "many fragments of winter lights" and how it reflects on the ground.
Alexander McQueen
For Autumn '23 Sarah Burton takes us back to Lee McQueen's humble beginnings before Central Saint Martins, when he worked as an apprentice on Saville Row. With "a focus on cut, form and silhouette" Burton was inspired by visions of chalk on cloth recently seen in Cate Blanchett's movie 'Tar'. Setting the tone for the tight tailoring throughout, Naomi Campbell opened the show in a black bustier dress, followed by tuxedo corset tops worn over white shirts, sharp shouldered floor length coats and pinstriped dresses. In a typical McQueen sinister turn Burton was also inspired by "the body within" creating knitwear that "turned inside out and upside down" with exaggerated twists made to represent open body parts. It was a brilliant collection and a true testament to Burton's finesse and expertise as a designer.
Andreas Kronthaler for Vivienne Westwood
"I thought it was best to just keep going. Work is good, work helps" said Andreas Kronthaler describing how work has become a solace for grief since the death of his design parter, muse and wife of 30 years, Vivienne Westwood. While her death caused sadness and sorrow to ripple through everyone in the fashion world, Kronthaler would have been one of the most affected. Recalling the days when he and Vivienne would rummage through vintage shops to find inspiration, the collection was made "out of bits and pieces." Created using mostly dead stock fabrics, it was a typical Westwood jumble of tartan miniskirts, printed leggings, plaid leg warmers and clashing floral prints. Vivienne's punk spirit lived on however, in her signature platform boots, draped dresses and spiked hairstyles. Westwood's granddaughter closed the show in a stunning bridal lace corseted romper, reportedly there wasn't a dry eye in the house.
Ann Demeulemeester
Ludovic de Saint Sernin's Paris Fashion Week debut at Ann Demeulemeester would have put the minds of her loyal followers at ease. Known for exploring sexuality in his gender fluid, S&M inspired clothing at his namesake brand, Saint Sernin presented a demure vision for the house, although with a more sensual and youthful feel. In preparation for the show Saint Sernin studied the house's archives, even going to the extent of trying on pieces himself. The collection seemed like a middle ground between the two designers: strong masculine tailoring, gothic leather coats cinched at the waist, as well as more skin baring looks – a knit dress with a risqué thigh-high slit and a black velour skimpy gown just about covering the models breasts. There were also desirable, glamorous looks with satin fishtail skirts worn under fluffy Mongolian fur coats and a red carpet worthy scarlet silk halter neck gown. So far so good, watch this space.
Related Posts