Runway show will feature his fashions and art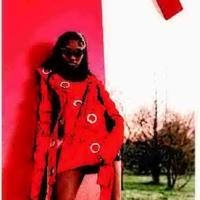 BY PAT EBY Special to the PostDispatch

As fashion designer, artist, author and Solar Society founder Lorenzo Taylor continued on his creative journey into 2023, he took steps to legally change his name to Rocket Supernova, a tag that fits his style and personal philosophy. "I have a few other interviews in the near future, but you have the one while my name is still, legally, Lorenzo," he says, "but you can call me Rocket."
He's generated a good buzz for his upcoming ticketed runway and art show on Earth Day, April 22. "The Dawn of Solaria" show includes 50 of his runway fashions, which will be for sale that evening. He also invited 12 featured artists to participate in the showcase.
His fashions cater to folks of all sizes and persuasions. He dresses men, women, children and even babies in his original creations.
A wise woman and anime adventures
• Rocket credits his mother, Patricia Taylor, as the driving force in his life. "I owe her my entire existence," he says. "The 1980s was her era, and she's always had her own unique style. She made sure my sisters and me and my brother always looked nice. More than anything, she was open-minded to our gifts and allowed our talents to flourish," he says.
A good show • While other kids at school dressed in high style name brand clothing and shoes, the Taylor brothers created their own style. "Our mom, being a single parent, couldn't always buy the brands. We found the styles we made got a better reaction from our peers than the clothes they were paying big bucks for," he says.
He also learned early how to collaborate and put on a show. "My school friends Richard and Bouba and I would design our outfits for lock-in roller skating parties. We'd have sleepovers and stay up all night making our clothes. We got a lot of compliments from the other kids our age."
He would extend his creative reach to music. "I had my own little rap crew and we became the most popular guys. I was rapping and doing shows in and out of the studio throughout high school," he says. Today, his brother Lamarco is making his mark in the music world and has a big following as Nikee Turbo.
Get into the ring • Boxing was another way Taylor honed his showmanship. He and his cousin, the late boxer Preston Freeman, met one of their mentors when Taylor was 14. Boxing devotee and owner of the Royale restaurant, Steven Fitzpatrick Smith helped them on their way. "I'm gonna know Steven until I leave this earth. Steve is a very, very, very amazing a role model," he says. "When you see me wearing a fedora, that style's from Steve, too."
Although Taylor and his cousin showed up at Smith's gym for training, they got much more from Smith. "He opened his arms to us, and facilitated everything we needed for our boxing matches. He trained and really invested in us. He taught us a lot of life skills, manners, etiquette — he was that mentor guy everybody needs," he says.
The hand that creates • Taylor was productive and creative in high school, but those years weren't idyllic. "You have to remember, when I grew up in inner city St. Louis, you were already in a gang.
"We would have big fights after school with kids from other neighborhoods. I mean, it was the thing to do. I ended up breaking my hand at one of these fights. I thought I've been in tune spiritually most of my life, and I don't have any business fighting. That was the Creator's way of telling me 'I have better use for your hands than hurting people.' That's why I make art."
The dawn of a new world • Taylor constantly creates. During the pandemic he produced a fashion and art show, "The End of the World," which explored the time of isolation and worldwide strife.
His new show "The Dawn of Solaria" sets the stage for hope, growth, and reconciliation in the future.
Taylor, who will appear soon as Rocket, summed up his philosophy on art, fashion and life in a few words. "I've always been attracted to what stood out; not what all look the same. If I'm looking at a paper and there's a bunch of white dots and one red dot, I'm fascinated by the red dot. I want to shift my energy to become that red dot."
Artist • Lorenzo Taylor is in the process of changing his legal name to Rocket Supernova.
Family • Taylor has a 1-year-old daughter named Aurora Supernova. His family includes his mother, Patricia Taylor, who encouraged his creativity from an early age, and a brother, Lamarco Taylor, who goes by Nikee Turbo. He also has two fashionable sisters, Nadine Lindsey and Akila Taylor. Home • Downtown St. Louis
What he makes • Rocket Supernova is a fashion designer and artist who is known for unique, high fashion streetwear for men, women and children. He manipulates materials in a variety of ways using sewn techniques and slashes. He transforms materials with bleach and paint. He also paints and makes art on stretched canvasses as well as clothing.
Where to buy • His fashions are available at his shows and through his website, rocketsupernova.com, and Instagram page. Tickets for his next show April 22, are available now through Eventbrite.
How much • $50 to $300 for most fashions; full custom work quoted by project
Related Posts