Sotheby's NY 'Art As Jewelry As Art' Auction Includes Phygital Ring
Sotheby's NY "Art as Jewelry as Art" sale will be the first auction to include a phygital ring. Designed by Francine Ballard of Metagolden specifically for this upcoming sale, the buyer of this gold-and-emerald ring will own it in both the physical world and the metaverse.
About the "Ethereum Expedition" phygital ring
The one-of-one NFT sold during the auction is paired with a physical "Ethereum Expedition" ring. The piece itself is inspired by the intercontinental rocket launches that might soon take place in our near future. It also resembles a miniature geodesic dome, patented by Buckminster Fuller and adopted in design by David Webb.
auction/2022/art-as-jewelry-as-art">According to Sotheby's NY, this piece speaks "directly to a nouveau assemblage of collectors" who understand that the blockchain is bringing about a cultural revolution. Therefore, this ring symbolises the "illustrious futurists' blueprint for transit."
The online auction will take place from 24 September to 4 October 2022. The works will also be on view at Sotheby's NY New York Avenue Galleries during the same period. In addition to the phygital ring, the auction will also feature jewelry by some of the greatest artists of the 20th century.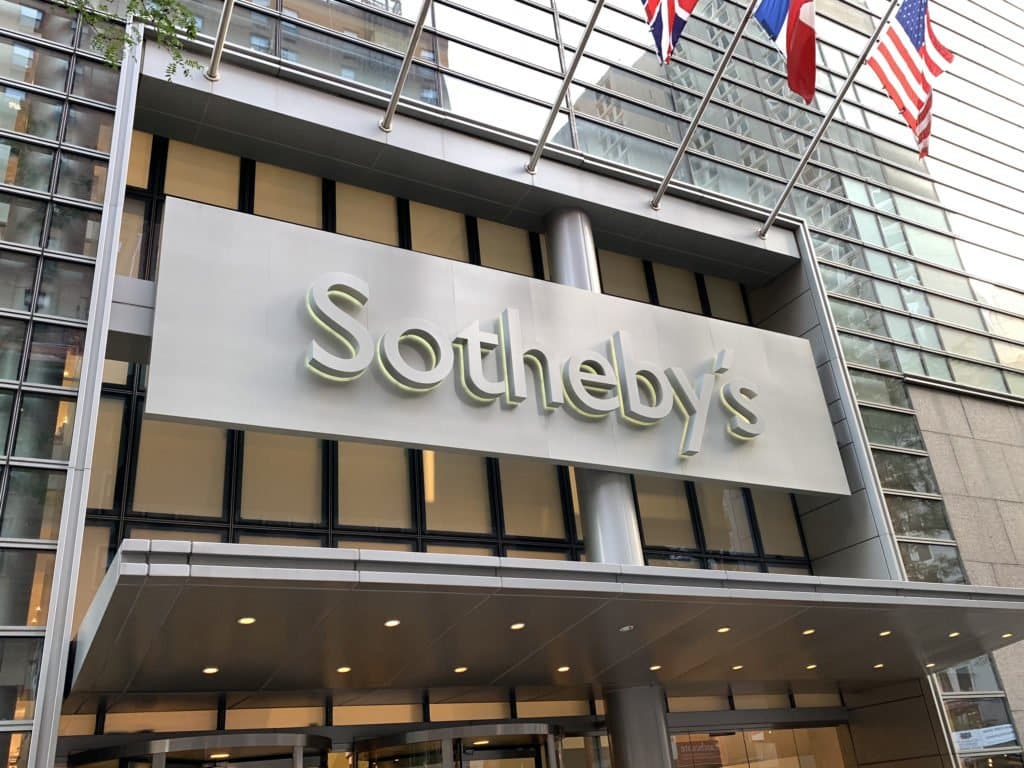 About Sotheby's NY "Art As Jewelry As Art" Auction
Sotheby's NY auction "Art As Jewelry As Art" brings together a variety of works by major artists who have explored the world in miniature. It presents 150 works of art that collectors can wear as an accessory or exhibit as part of a private collection.
The auction includes iconic pieces by some of the best artists of the modern art movement. These include pendants by Picasso, earrings designed by Dalí, and a necklace brooch by Man Ray, to name a few. Contemporary design is just as present, with works by Tom Otterness, Jean Boggio, Suzanne Syz and other artists.
"Today, collecting art is often seen as an investment. The works assembled here are indeed wise investments since most are either unique pieces or from small editions. They are scarce and will only become more so," said Sotheby's NY Tiffany Dubin.
"This selection of artist jewelry is an opportunity to reintroduce these works to the discerning collector in a new context and as a defined category of art for a collection that happens not only to be intended for adornment, but much more than that – as a means of personal expression."
The jewelry NFT sphere is undoubtedly growing. Recently, Tiffany & Co.'s NFT collection of Cryptopunks NFTs sold out almost immediately in 20 minutes. Moreover, last year, IceCap became the first company to offer investment-class diamonds as NFTs. These NFTs were also paired with physical jewelry pieces like diamond rings and necklaces.
---
All investment/financial opinions expressed by NFTevening.com are not recommendations.
This article is educational material.
As always, make your own research prior to making any kind of investment.
Related Posts