Trashion Fashion: Lancaster Country Day students turn garbage into wearable art | Entertainment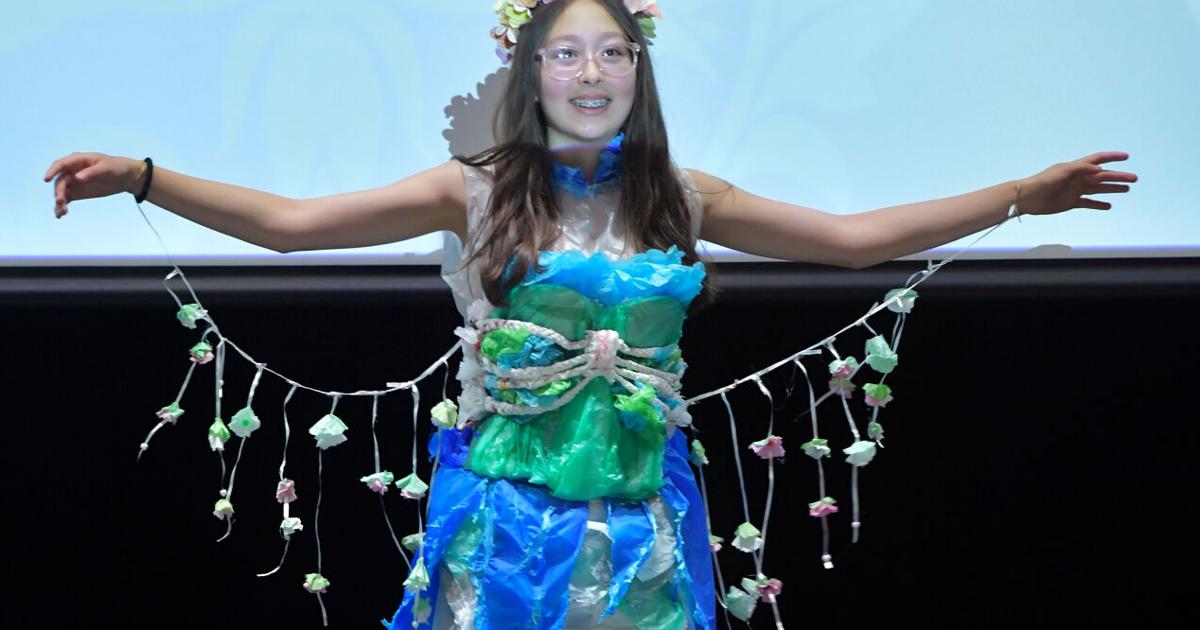 Garbage bags. Old hula hoops. Empty snack packages. Fishing line. Bottle caps.
These items seem destined for the dumpster. But to eighth grade students at Lancaster Country Day School, they might as well have been tulle, satin and chiffon.
Lancaster Country Day hosted its annual Trashion Fashion show June 2, which showcased 15 works of student art. The event was the culmination of a trimester-long art project challenging groups of three to four students to create entire outfits complete with accessories from only recyclable materials.
Different types of paper and plastic were the primary materials used, and the outfits were made with as little adhesive as possible. Students were not allowed to use recycled fabric.
Art teacher Diane Wilikofsky started the project 16 years ago; fellow art teacher Candy Thompson joined her about four years later.
The teachers instruct students to base their creations off famous works of art, such as Frida Kahlo's self-portraits and Georgia O'Keeffe's soft floral paintings. The project proves to be a useful lesson in art history and how a new creation can echo elements of famous pieces.
Wilikofsky says she hopes that the project also teaches students about the importance of sustainability.
The project requires months of careful preparation and planning. Wilikofsky begins the process by giving a presentation to students of various artists and their work, of which students select their favorites and brainstorm ways to transform the piece into an outfit. Then, each student designs an initial concept on paper and presents their idea to the class.
The class voted to decide which 15 outfits would be brought to life before being set loose on their "Project Runway"-esque challenge.
Sonia Shih, one of the participating students, designed a salmon pink floor-length dress complete with an art-deco style headpiece and billowing white cape using garbage bags, cardboard, wire and metal bottle caps. The look was inspired by Odilon Redon's "Melancholy."
"A lot of us don't have any experience making clothes, so we had to figure it out as we went along," Sonia said.
Julia Davis, another student designer, also says it was an experience filled with trial-and-error. She experimented with many techniques to create the underskirt of her group's oceanic outfit inspired by Winslow Homer's paintings, "Northeaster" and "The Gulf Stream." The team first tried using paper, only to find it deteriorated too easily. They pivoted to cardboard, which proved to be more structurally sound.
Student Kielle Rodriguez designed an ethereal gown based on Giuseppe Arcimboldo's painting series, "The Four Seasons." Her team used trash bags to create a dress of streamers and newspaper to craft a headpiece of fruit.
Her team won the most creative outfit and people's choice awards.
Lennon Krista's team won best overall outfit for a dress made out of cardboard, plastic bags and paint that referenced Claude Monet's work.
Jane Zobian's team won best representation of artwork for their outfit inspired by Sir John Everett Millais' painting, "Ophelia."
Anna Sponaugle's team won best use of materials, creating a resourceful reinvention of Henri Matisse's "Woman in Blue" using blue Solo cups, snack packaging and a hula hoop.
After the show, some of the pieces will be kept in the school's art room for future inspiration. Others went home with students.
From working at the drawing board to seeing the audience's reactions, Kielle says she found the entire process fulfilling.
"I felt proud seeing the drawing and then seeing it [on stage], after all the hard work," Kielle says. "It really came together at the last minute."
Related Posts